Application Considerations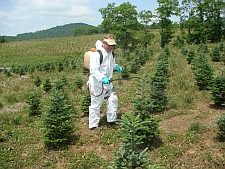 The success of pesticide applications depend on many factors. Research in other crops has indicated that as much as 75% of how well a pesticide works is a function of how the material is applied. This includes getting good coverage as well as the weather conditions during and after application.
The following information is important to get the most out of an insecticide application.
Sprayers. Sprayers are the most common pesticide application equipment. Sprayers range in size, complexity, cost and effectiveness. All insect and mite pests of Fraser fir Christmas trees can be controlled with any type of sprayer, but some are more suited than others for specific situations based on field layout, size and density of the tree, and the pest being controlled. The following are used in the Christmas tree industry in western North Carolina:
Tips for Application Success and Safety. Insecticides are expensive, but the cost of the material is only part of the total cost of application. The total cost includes the cost of the sprayer and its upkeep, time and labor costs, and even the costs to natural predators that give free pest control if a material is applied. Only through scouting can it be determined if a pesticide application is necessary. But once the decision has been made to apply a pesticide, it is important to get the most benefit from it as possible by following correct application procedures, all the while protecting the health of the applicator and the environment. The following information will aid in making insecticide applications successful and safe.
Protecting Pollinators. Flowering ground covers in Christmas trees provide habitat for natural predators and wildlife. They also provide a pollen and nectar source for pollinators including honey bees. This added benefit of Christmas tree production can create a problem when an insecticide is necessary to control pests. Even organic pesticides can be toxic to bees. Be sure to read on the pesticide label under Environmental Hazards to determine necessary precautions during application. The following provide good information on how to protect predators.
For more information on the safe application of pesticides see: Christmas Tree Farm Safety: Pesticides.
For more information on pesticides used in Christmas trees see: Pesticides Labeled for Use on Christmas Trees in North Carolina.