Bees
Find this page at:
go.ncsu.edu/readext?295912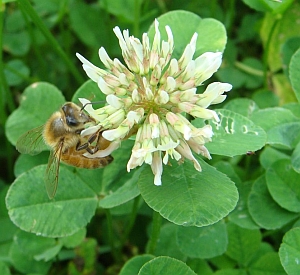 The pollinator study was initiated to learn how bees utilize Fraser fir Christmas tree fields in western North Carolina. In part this was to document the importance of the industry as bee forage since growers more and more are leaving living and flowering ground covers around their trees. Additionally it was important to learn when honey bees were foraging in Christmas trees so that growers would know what precautions to take when an insecticide application needs to be made. Most insecticides cannot be applied if honey bees are actively foraging in an area. Though the amount of insecticides used in Christmas tree continues to decline, growers do have to treat for some pests. One or two insecticide applications are typically made every year when trees are nearing harvest. Smaller trees seldom require an insecticide application. Therefore this study was put in place to learn when bees were in tree fields and how growers could protect them when applying insecticides.
For more information on insecticide use in Fraser fir Christmas trees and what pests are being controlled see Pesticides Used in Christmas Trees.
Bees Observed in Pollinator Study
Some type of bee was observed during virtually all of visits made. Only on one occasion at one farm were no bees observed.
In all, 17 genera of bees have been identified in Christmas tree fields through the course of the study. These include:
Agopostemon (green sweat bees)
Andrena (mining bees)
Apis (honey bees – not native)
Augochlorella (green sweat bees)
Augochlora (green sweat bees)
Bombus (bumble bees)
Calliopsis (campus bees)
Ceratina (small carpenter bees)
Colletes (mining bees)
Halictus (sweat bees)
Hylaeus (yellow-faced bees)
Lasioglossum (sweat bees)
Megachile (leafcutter bees)
Melissodes (long-horned bees)
Osmia (mason bees)
Pseudopanurgus (mining bees)
Xylocopa (carpenter bees)
The greatest bee diversity was observed in farms where there was always abundant blooming ground covers and particularly where field borders were allowed to grow up in flowering plants.
Flowers that appeared to attract bees the most include black-eyed Susans, dandelions, false dandelion, goldenrod, ironweed, Joe-pye weed, milkweed, nightshade, purple deadnettle, red clover, thistles, wild mustard, wingstem, and white clover.
Honey Bees
Honey bees were found at all fields sites, but they were more frequent at some farms than others. Three of the farms visited always had honey bees and two of those sites had known bee hives close-by. The other three farms had honey bees some days and not others. This appeared to be tied to what was blooming in the field. Honey bees were observed during 69% of the 66 visits.
Christmas tree growers in western North Carolina typically manage ground covers by applying low rates of Roundup. This stunts weed growth while not harming the Fraser fir and helps to eliminate the greatest competitor with trees which is grass. Following these low rate applications during the study period, flowering of most ground covers were virtually eliminated and bees and particularly honey bees were not found. During the summer of 2012 during periods of dry weather, flowering also ceased particularly in white clover, and again honey bees and most native bees were no longer found.
For more information on how Christmas tree growers can protect bees see Tips for Keeping Bees Safe.
Photo Gallery

Back to The Pollinator Study Main Page