Chapter 6: The 1970s
Find this page at:
go.ncsu.edu/readext?295724
en Español

El inglés es el idioma de control de esta página. En la medida en que haya algún conflicto entre la traducción al inglés y la traducción, el inglés prevalece.

Al hacer clic en el enlace de traducción se activa un servicio de traducción gratuito para convertir la página al español. Al igual que con cualquier traducción por Internet, la conversión no es sensible al contexto y puede que no traduzca el texto en su significado original. NC State Extension no garantiza la exactitud del texto traducido. Por favor, tenga en cuenta que algunas aplicaciones y/o servicios pueden no funcionar como se espera cuando se traducen.

English is the controlling language of this page. To the extent there is any conflict between the English text and the translation, English controls.

Clicking on the translation link activates a free translation service to convert the page to Spanish. As with any Internet translation, the conversion is not context-sensitive and may not translate the text to its original meaning. NC State Extension does not guarantee the accuracy of the translated text. Please note that some applications and/or services may not function as expected when translated.

Collapse ▲
"We will be there one of these days." – Waightstill Avery, February 29, 2007
North Carolina's First Tree to the White House
President Franklin Pierce, the 14th President of the US was the first to set up a Christmas tree in the White House in 1856 for his family's use. In 1889, President Benjamin Harris set up an official White House Christmas tree (Albers & Davis, 1997). This tradition continued until Theodore Roosevelt who banned Christmas trees from the White House for a time.
Many people are troubled about cutting evergreens for Christmas trees. President Theodore Roosevelt, as a conservationist, felt so keenly about the matter, for example, that he used to forbid their use in the White House. He called it wasteful. One year, however, his sons Archie and Quentin smuggled one in and set it up in Archie's room. The President's friend and advisor on the conservation measure, Gifford Pinchot, assured him that the supervised and proper harvesting of Christmas trees was good for the forests. From then on the White House had a tree (Sowder, 1949, p. 247).
Of course, Pinchot has a North Carolina connection, having been hired by George Vanderbilt to manage his forest at the Biltmore Estate.
Presenting a tree to the President became an important promotional activity of the National Christmas Tree Association, the honor going to the winner of the national Christmas tree contest. According to their website, the first tree was presented in 1966 by Howard Pierce of Black River Falls, Wisconsin, to President Lyndon Johnson (Grand champion trees, 2009).
Taking a Christmas tree to the White House is an honor for any grower. It also provides a great deal of free publicity for the state that provides the winning Christmas tree. North Carolina should know. The state has provided 11 Christmas trees to the White House to date, and Kermit Johnson was the first. Johnson is also credited as being the first full-time Christmas tree grower in Avery County (Thiel, 1992).
Johnson's tree won in Vermont the week of August 17, 1970. "The tree was chosen from Mr. Johnson's plantation by himself, Homer Sides, and Ross Douglass, and was taken to Vermont by Homer Sides for the national judging" (Johnson winner in national Christmas tree grower contest, 1970).
The Farm Journal ran the following article written by Joe Dan Boyd December 1971.
North Carolina farmer Kermit Johnson is playing Santa this year: He's giving a Christmas tree to President and Mrs. Nixon!

The Nixons will accept it in mid-December during a ceremony in the Blue Room of the White House.

The right to provide the President's Christmas tree comes automatically to the national winner of the annual Christmas Tree Growing Contest.

The magnificent 14' fir on this month's cover was photographed last winter on Johnson's Avery County farm by Bruce Roberts.

"It looks a lot like the one I'll be giving the Nixons," Johnson explains. "But, they want a 20' tree and that's what they'll get." You also may be sure that the Nixons will get a Fraser balsam fir, which Johnson regards as the finest.

"They'll hold their needles for months after cutting," he says.

Yet another Tarheel tree will be placed on the White House lawn. "The North Carolina Christmas Tree Growers Assn. will ship a 60' Fraser fir for that," says Johnson.

During the last 10 years, Johnson has abandoned vegetable farming to become a full-time nursery producer. You can count about 30,000 trees on his place, about 4,500 of which will be sold this season in 120 stores within 200 miles.

"I get $4 for a 5' to 7' tree; $6 for a 7' to 9' tree," he adds.

For a "super tree" such as he will present to the Nixons, the going rate would be about $100. That's the same price as last year, of course (Boyd, 1971, p. 1).
It's surprising what a little national publicity can do. Herman Dellinger (2007) remembers going to Montana with Johnson after the Farm Journal article ran. They knocked at the door of a farmhouse to ask permission to go fishing, and the farmer took one look at Johnson and said, "I know you. You were on the front cover of the Farm Journal!"
Hardy reports that the tree was grown on the property of Bartlett Farmer in Squirrel Creek area and was planted in 1946 by Iva Johnson, Mrs. Bartlett Farmer's father (Hardy, 2007). According to Mrs. Farmer, it was "a fitting memorial to a man who lived out his life, content, here in the hills" (Hardy, 2007, p. 106).
Frank Hollifield, who was a friend of Johnson's and learned a lot about growing trees from him, remembered going to see them cut down the White House tree only to be enlisted to help (Hollifield, 2007). They loaded the tree on a truck with a rack from front bumper to back bumper. They had to hand-tie the tree and had a crane to put it on the truck. The weather did not cooperate as a heavy snowstorm had hit the area the day the tree was cut.
The following article ran in the Avery Journal about the event.
When the lights go on the Presidential Christmas tree in the Blue Room in the White House, throughout the holiday season, during the festivities as the Nixons celebrate the joyous occasion and visitors exclaim over the beauty of the tree as it holds the most prominent place in the nation, we here in Avery County will be justifiably proud. For it was grown by one of our own, high in the hills on Squirrel Creek.

Kermit Johnson, a nurseryman for 10 years, entered a tree in the Christmas Tree Growers Association in Vermont last year. His tree was judged the best, giving him the right to select the Presidential Christmas tree this year. He chose one from his neighbor, Bartlett Farmer's property, a beautiful 21 foot Fraser Fir or Balsam, as we call them here. I asked Johnson why his trees grew so beautifully. Did he have a certain knack to grow Christmas trees? "I think it is the method I use in shearing them, and the time of year I shear them," Johnson stated. He would not divulge the time for shearing them, which was understandable, being a trade secret.

The tree was cut Friday during the heavy snowstorm that hit the mountains. Several from the news media had been invited. C. G. Underwood of WBTV started but never could make it over the icy roads. A reporter from the Johnson City Press Chronicle and the Charlotte Observer were on hand to see Kermit Johnson take a power saw to the tree, as Bartlett Farmer held the limbs up for him to saw. Arlin Stout and his boys from Mountain Electric were on hand with a truck with a hoist to let the tree down gently and load it on the truck. Several members of the Christmas Tree Growers Association were also present.

Bartlett Farmer, his family and grandchildren are going to Washington December 19th to see the tree in the Blue Room with all its decorations. Congressman James T. Broyhill made it possible for the Farmers to go by obtaining passes for them.

Yes, when the lights go on the tree in the Blue Room it will be another feather in Avery's cap, a part of Avery making history and adding to the joy of the presidential family's Christmas, and confirming the fact that Avery, with her hard-working nurserymen, is truly the Shrubbery Capitol of the State (Cantrell, 1971).
Besides the Farmer and Johnson families, the new County Extension Director, Waightstill Avery, attended as did Herman Dellinger. As Daylon Rogers wrote, "It has been a most rewarding year for the North Carolina Christmas tree assn. And Kermit Johnson's name will be linked in everybody's mind with Christmas trees for a long time" (Rogers, 1972).
The advertising of the Christmas Tree Association appears to have been working because in a Asheville Citizen article about the event it states: "Fraser fir is native to the Southern Appalachians and makes an ideal Christmas tree with its lush foliage, excellent needle-holding abilities and pleasing fragrance" (President's Christmas tree to be cut today in Avery, 1971). These attributes of Fraser fir have almost become a mantra for the Association over the years.
The Asheville Citizen's article also talks about the national Christmas tree provided the same year.
North Carolina is the first state to furnish, in the same year, both the tree for the interior of the White House and the national Christmas tree to be lighted December 17 on the White House lawn.

The 65-foot Fraser fir, but in Haywood County two weeks ago, has reached Washington and been erected on the White House lawn (President's Christmas tree to be cut today in Avery, 1971).
More information about the National Christmas tree is provided in a December 2, 1971, article in The Avery Journal.
The custom of having the National Christmas tree furnished by various states was adopted by President Calvin Coolidge as an annual event called "The Pageant of Peace." Each December thereafter, a tree some 65-feet high has been erected and surrounded by fifty-seven other trees 12-feet high to represent the 50 states and our seven possessions and trust territories (White House Christmas tree from Crossnore, 1971).
According to Walt Keller, the tree was so remote that the Forest Service had to cut a road back to it where a crane could come in to lower it. There had also been problems locating a Fraser fir tall enough to meet the requirements for the tree, but the article goes on to state:
But Fred Whitfield of the School of Forestry Resources wouldn't give up. He looked everywhere, and heard there might be such a tree in a remote area of Haywood County. He and another enthusiast, Marty Shaw, trudged around in the snow for several days until they found a tree that defied even the textbook. Afterwards in May of this year, notice was made of the selection. The pick is a 65-feet tall, 23.1 inches in diameter and has 60-feet of limbs. It weighs approximately 12,000 pounds.

The tree will be cut November 19. Afterwards it will be displayed in Asheville, Charlotte and Winston-Salem before a final send-off ceremony in Raleigh on November 28 in front of the Legislative Building (White House Christmas tree from Crossnore, 1971).
The national tree also gave national press to the fledgling Fraser fir industry. "Governor Robert W. Scott and his family led a delegation of about 60 North Carolinians to Washington for the lighting of the National Tree. It was quite impressive and everyone on the program from the Governor to the Vice President referred several times to the fact that it was a Fraser Fir from North Carolina. This was, of course, given National coverage by all media" (Rogers, 1972, p. 21).
After all the ceremonies were over, NC Governor Holshouser accepted a cross section of the 1971 National Christmas tree from Christmas tree grower, Wallace Cawthorne. The cross section was displayed the Museum of Natural History in Raleigh (Caption to photo, 1973).
A Second Tree to the White House Follows Closely on Its Heels
Fraser fir being the judged the finest tree in the land was no fluke. A North Carolina Fraser won the National Christmas Tree contest the next time it was held with brothers Homer and Bruner Sides provided the winning tree.
The Sides had been retailing trees since 1952, having started growing trees the year before (Worth, 1995; Sides, 2007). Their father, Paul, was a farmer raising tobacco but also selling vegetables like watermelons, peas and beans every Thursday and Saturday in the Winston-Salem area. Bruner was only 16 when he started retailing trees. The original trees sold were red cedars cleared from the land for farming. They sold red cedars and Virginia pines initially, then started selling white pines in 1955 and Fraser fir in 1957. Those first years they sold red cedar or white pines for $3 to $5 apiece. They started planting cedars then white pine and Scotch pines in the early to mid 1950s in the Piedmont. In 1960 they rented a farm in Laurel Springs and set Frasers in 1961 which were wildlings from Mt. Rogers pulled by George West (Worth, 1995). In the early 1960s they sold some balsams from Kirk Company in Wisconsin. Theirs was a family business. Bruner's wife Linda remembers selling trees while she was pregnant with their first child because there was no one else to do it (Sides, 2007). By the time they sent the tree to the White House, they had retail lots in High Point, Greensboro, and Winston-Salem.
On December 10 the tree started its journey to Washington under the escort of Mr. and Mrs. Homer Sides, Mrs. Bruner Sides, Mr. Dr. R. Burns and Wallace Cawthorne. On the morning of December 11, the group arrived at the White House with the tree. Meeting the group at the White House was Senator Jesse Helms and Representative Wilbur Mizell of North Carolina.

Mrs. Nixon welcomed the group and accepted the tree for the White House.

The following day Mr. and Mrs. Bruner Sides, Mrs. Homer Sides, Mr. Daylon Rogers and Wallace Cawthorne presented the Governor of North Carolina trees which Mrs. Holshouser had selected. Two of these trees were displayed on either side of the entrance to the mansion. The third was displayed in the ballroom and was decorated with lights for which the energy was furnished by pedaling a stationary bicycle. Most often this energy was furnished by the Holshouser's daughter, Ginny.

The culmination of the dream came when the Sides families returned to Washington on December 21 to view their tree as it had been beautifully decorated for the Blue Room. The Chief Usher showed the families a bird nest found in the tree by the decorators and pointed out that this is a sign of peace and prosperity (Sides brothers place trees in White House and Governor's mansion, 1974).
For both the Johnsons and Sides to win the National Christmas tree contest in the next decade after starting to raise Christmas trees speaks to how quickly the industry was developing and how hard those early growers worked.
Fraser fir was still relatively unknown in the early 1970s. In a USDA brochure written by Charles C. Littleton, Marketing Specialist, Fruit and Vegetable Division for USDA and published October 1971 on how to buy a Christmas tree, the only species mentioned are balsam fir, Douglas fir, eastern red cedar, Scotch pine and both eastern and western white pines.
The contest wins were helping Fraser fir to become known among the Christmas tree community nation-wide. Waightstill Avery remembers taking a Fraser fir to one of the National Christmas Tree Association's marketing meetings in Colorado (Avery, 2007). A lot of the North Carolina growers attended, and they took a perfect 8-foot Fraser grown by Jack Wiseman to the show, but they weren't allowed to set up the tree on the stage. So Waightstill asked the Hyatt Hotel manager if they could set up the tree between the front doors of the hotel which they did. Many Christmas tree growers thought it was artificial, it was so perfect. Waightstill says they sold 50,000 North Carolina trees that day.
The Start of Limbs & Needles
The year 1973 presented another milestone. The NCCTA began a publication called Limbs & Needles. It was Earl Deal, Alleghany County Christmas tree grower and Extension Forestry Specialist, who came up with the name (Deal, 2009). According to the Limbs & Needles article written in 1991 from an interview with John Gilliam, Wallace Cawthorne was the Editor and Earl Deal the Advertising Manager, because the University considered it a conflict of interest for Deal to be the editor. Circulation increased from around 200 initially to almost 800 copies "going principally to five southeastern states (Time for a change?, 1978). In 1978, Limbs & Needles also included information and articles from the Christmas tree associations of Virginia, South Carolina, Georgia, Tennessee, Alabama, Louisiana and Mississippi (Time for a change?, 1978).
Daylon Rogers and Hal Johnson were also editors of Limbs & Needles in the 1970s, Rogers continuing for 15 years until 1987 (Thanks, Daylon!, 1987). Rogers became NCCTA President in 1970 and served two terms. "His Choose and Cut farm near Wake Forest was one of the first in the state" (In Memoriam: Andrew Daylon Rogers, 2000). Rogers was said to be "a quiet man of great intelligence."
According to Deal who first became a NCCTA member in 1971, before Limbs & Needle got started, there were very few newsletters. The Association was very informal. In fact, the county associations now in existence are more formally run than the State Association was initially.
Wallace Cawthorne was the forester in the agriculture group of the 1st Union Bank. The bank was interested in farmers and small businessmen. Cawthorne himself raised Virginia and white pines near Smithfield (Deal, 2009).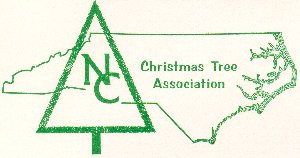 The very first article in the very first issue was about the Thickety tree farm in Canton, NC (Thickety tree farm, 1973). Also in that issue was a soil sampling article by Ross Douglass, highlights of the NCCTA's quest for the 1974 national convention by Daylon Rogers, "Why we need more Christmas tree research," by Fred Whitfield, Editor's Chit Chat by Wallace Cawthorne, an article on the value of belonging to an association, and an article on lophoderium needlecast on Scotch pine.
Part of being an Association is having a recognizable logo. It was about this time that Eugene and Margaret Motsinger were credited with developing the logo which the State Association used on its literature, stationery and brochures for 25 years (In Memoriam; Madison Eugene Motsinger, 1997).
The National Christmas Tree Association Meeting in Boone
These wins would usher in the next big accomplishment of the State Association, hosting the National Association at Appalachian State University in Boone on August 21-23, 1974 (Christmas tree growers have Boone conference,1974). As Daylon Rogers, President of the NCCTA wrote in the first issue of Limbs & Needles, "One fine day last spring, I got a call from Fred Whitfield, extension Forest Management Specialist, saying that some of our neighbors in adjoining states felt that we should make a bid for the 1974 National Convention" (Rogers, 1973, p. 3).
It was the 8th National Christmas tree Biennial Convention. Theron R. Stone of Michigan was the National Association President that year. Edgar J. Lott of the Department of Forestry at Purdue University and A. Daylon Rogers were Co-General Chairmen. Fred Whitfield and Van Michael from Tennessee were Co-Chairmen. The local arrangements committee co-chairmen were D. R. Burns of Lenoir and Dale Shepherd of West Jefferson (Convention Program, 8th National Christmas Tree biennial Convention, 1974).
The National meeting in Boone was the first big Christmas tree project that Bill Huxster, Extension Forester with NCSU, would work on (Huxster, 2007). Huxster joined the extension team in 1960 working with sawmills and loggers. He was asked by Fred Whitfield to work with Christmas tree growers on cost accounting in either 1967 or 1968, riding with Whitfield for two years to meet all the growers. He spoke at the NCCTA winter meeting in Statesville in 1970 on keeping records. In many ways, the 1974 National meeting would be the passing of the torch. Whitfield would retire after it, and Huxster would shift most of his responsibilities to Christmas trees. In Huxster's opinion, the National meeting really brought members of the NC association together.
The national meeting was also the first time that North Carolina growers could showcase their trees. Hal Johnson, Ashe County Christmas tree grower who would take a Christmas tree to the White House twice, wrote an article for the convention program on the farm tours. "This is the day that out-of-state growers will see what the North Carolina Christmas tree business is all about" (Convention Program, 8th National Christmas Tree biennial Convention, 1974, p. 12)
The theme of the convention was "Tools for Decision Making." The key-note speaker was Ed P. Walter presenting "The Christmas Tree Business – Tomorrow" (Convention Program, 8th National Christmas Tree biennial Convention, 1974). Walter was a Christmas tree distributor working from the Pacific Northwest, Canada's Maritime Provinces and the Midwest. Walter was pictured with Stone and former Governor Bob Scott in an Asheville Citizen article about the convention.
(Walter's) father, Mike Walter, founded the firm of M. Walter & Co. by selling a wagon load of Christmas trees in front of a small neighborhood grocery on Chicago's West Side Dec. 9, 1912, Walter said.

Walter, in his convention address, also took issue with ecologists who "would have you believe that we are environmental rapists who strip the land of trees."

He maintained that the Christmas tree growers of America "stand in the forefront of those who are protecting the environment in which we live."

Walter urged growers to spread the story of the industry, and said the reason so many people visit the mountains, parks, lakes and gardens and take weekend rides to get out of the cities is because they like the natural setting of things that are growing.

"We have been advertised, propagandized and psychologically conditioned to a humdrum artificial existence with all the commercial adjectives that the advertising council can think of, to take us away from nature and its soothing, peaceful existence," Walter said.

Scott, who welcomed the some 700 members to the convention, is now head of the North Carolina Agri-Business Council with headquarters in Raleigh. He said N. C. State University is conducting research aimed at making Christmas tree farming possible in Piedmont and Eastern North Carolina as well as in the mountain counties (Hensley, 1974).
Of the 37 speakers at the meeting, three were from North Carolina including William F. Durham with the EPA in the Research Triangle Park, Maurice H. Farrier with NCSU entomology department who was an expert in mites, and Fred D. Sobering, also from NCSU who was the Specialist-in-Charge of extension economics (Convention Program, 8th National Christmas Tree biennial Convention, 1974).
Local committee members were as follows:
Registration and signs: John Wagoner (Gibsonville) and Ralph Reavis (Jefferson)
Exhibits indoor and outdoor: Norman Harris (Shelby)
Housing, meals and bus arrangements: Wilson Barr (W. Jefferson)
Favors and door prizes: LaRue Rogers (Raleigh) and Joe Sherrill (Statesville)
Advertising and exhibit sales: Wallace Cawthorne (Raleigh)
National Christmas tree contest: Homer and Bruner Sides (Lexington and Winston-Salem)
Field trips: William T. Huxster Jr. (Raleigh)
Tours and ladies' activities: Mrs. Bonnie Sides (Lexington) and Mrs. Joan Beutell (Tuckasegee)
Publicity: Hal Johnson (Raleigh)
Banquet: Frank Gentry (Erwin, TN) and Winnie Gucker (West Jefferson)
Tree procurement: Tommy Beutell (Tuckasegee)
Tree decoration: Mary Davison (Hillsborough)
Huxster remembered it taking 6 months to pull together all the logistics for a tour for 800 people – though not as many showed up as expected because of a gas shortage during that time (Huxster, 2007). He used the Cherokee Boys Club for buses and local Sheriffs to direct traffic. There were 10 buses that went on the Avery County tour and 6 that went to Ashe and Alleghany County. County Extension Agents were present to help at every farm. The tours were described as follows by Johnson:
Tour A goes northeast from Boone to Ashe County, one of the state's finest Fraser fir counties, located on the Virginia line. This tour will include the largest individual plantations in North Carolina, including the plantation of Homer and Bruner Sides, National Christmas Tree Contest winners in 1973.

Main attractions on the Sides plantation will be Fraser fir nutritional studies, large Fraser fir and white pine cultural practices.

At the Dale Shepherd plantation, you'll see one of the most picturesque plantations in North Carolina, good general management, good weed control, excellent butt pruning, and the effects of the 1974 twig aphid outbreak. Twig aphid research will be stressed on the Fred Colvard plantation, along with time-of-shearing demonstrations.

Tour B goes west from Boone to Avery County, where commercial Christmas tree growing in North Carolina began. This tour will include the state-operated Fraser fir nursery at Crossnore and young Fraser fir seed orchard. The tour will also visit the plantation of Kermit Johnson, National Christmas Tree Contest winner in 1971. Other stops will include the Herman Dellinger, Junior Horney and Jack Wiseman plantations (Convention Program, 8th National Christmas Tree biennial Convention, 1974, p. 12).
Handouts given out at the meeting describe the twig aphid and spider mite control trials conducted by Dr. Fred Hain. Hain had been hired that year. Materials evaluated included: Dursban, Uniroyal k-840; Diazinon, Supracide, Metasystox-R, Guthion, Zolone and Cygon as well as granulars – Thimet, Furadan, Dasanit and Temik and for spider mites – Plictram, Zecran, Omite, Acaraben, Fundal, Carzol, Kelthane and Thiodan. At least for twig aphid control the Diazinon, Cygon, and Metasystox-R were rated as best. There is no information as to timing of these materials which tremendously affects control.
The following information was also given out in handouts: "Kermit won the 1970 National Christmas Tree Growers Contest with a Fraser fir. Kermit is one of the oldest growers, having grown trees for 16 years. He was the first grower in Avery County to start summer shearing Fraser fir and now most growers have changed to this method of shearing. The number of trees that Kermit now has in the ground is in the neighborhood of 80,000 with most of them being fraser fir. He also grows native rhododendron." "Avery County growers have been planting over one-half million trees each spring and would plant more if the Fraser fir seedlings were available."
The National Association meeting gave a boost to the State Association. From surviving membership lists, the association had around 100 members in the early 1970s. The membership broke 200 with 214 members in 1979. Membership dues in 1975 were $15. The year also marked a change in the National Association as it moved from being " a federation of state associations to a direct, individual membership organization" (Davison, 1974).
Whitfield Retires
Fred Whitfield retired in 1975. He was honored with an award from the NCCTA. "One of his major contributions is the leadership and educational programs that he has provided for Extension agents and landowners in the western part of the state. These efforts have resulted in elevating Christmas tree production to a major commodity" (Fred Whitefield honored, 1975). According to both Deal and Huxster, he was instrumental in getting interest in Christmas trees at NCSU, promoting the industry on campus where it otherwise would have been forgotten (Huxster, 2007; Deal, 2009). Jim McGraw was his replacement.
At the the NCTA convention in Michigan, the following was said of Whitfield in the program:
Whitfield was a pioneer in the development of the state's Christmas tree industry.
Whitfield graduated from Guilford College and did graduate work at North Carolina State University and Syracuse University.

He was among the first to encourage the use of native Fraser fir as a Christmas tree. In twelve years' time the production of Christmas trees, mainly Fraser fir and white pine, has grown from embryonic size to a multi-million dollar industry (Fred Whitfield, Speaker, 1976).
More Problems with Pests
The emphasis on twig aphid control on the National tour was the first mention of this native pest which growers now treat for every year. Alan McMurray, former County Extension Agent in Mitchell County, started working for Joe Michael's business in 1973 selling agricultural supplies and pesticides (McMurray, 2009). He remembers selling 55 gallon drums of BHC to the Forest Service to spray in the natural stands of Fraser fir. Michael's business, which started in 1954 or 1955, was bought by Southern Agricultural Chemical in the 1960s and then bought out by McMurray in 1983. Mike Chemicals would supply the growing Christmas tree industry through the years with pesticides, fertilizers, equipment for growing trees and making wreaths.
McMurray remembers that tree growers began treating for balsam woolly adelgid in the early 1970s using BHC or Lindane (McMurry, 2009). Many of these applications were made in September and may have masked problems with other pests like twig aphids. By 1972, both BHC and Lindane were listed for control of balsam woolly aphid in the North Carolina Agricultural Chemicals manual. Recommendations were to, "Spray entire tree during May, June or July" using 2 ½ pounds wettable powder of BHC in 100 gallons of water (Farrier & Whitfield, 1972, p.43).
Production Assistance for a Major Commodity
By the mid 1970s Christmas tree growers did consider themselves a major commodity in North Carolina. Christmas tree production continued to grow with many new growers starting to produce trees during that time. As the industry grew, so did the questions on how to best produce Christmas trees.
Waightstill Avery became County Extension Director on March 1, 1970, in Avery County (Avery, 2007). He and Ken Perry, County Extension Director in Jackson County, conducted many demonstration plots for Christmas tree growers. Avery himself had 158 demonstration plots looking at herbicides, fertilizers and pest control. At that time a lot of funding dollars came from the Tennessee Valley Authority (TVA). The TVA was "the first federal attempt to alter living conditions in a specific region of the country" (Stevens, 1987, p 3) and during the 1970s through the early 1990s, there was often grant money readily available for economic development projects. Other counties questioned why Avery and Jackson kept getting all the research money. The answer was simple. They were the ones putting in the requests for funding and using it to do work that was making a difference for farmers (Avery, 2007).
The need for help for the industry was described in a May 1973 publication called Mountain Greenery, produced by Extension and TVA. "Since 1933, the constant goal of the agricultural universities and TVA has been to make farming in the Tennessee Valley more productive" (Mountain greenery, 1973, p. 6). Demands on mountain farms were becoming greater as land prices increased. Avery viewed Christmas trees as a way people could keep their land in production without selling to developers (Avery, 2007). According to the Mountain Greenery publication, land in the mountains was five times higher than it was in 1965. "This pressure on the land resource is one reason why Avery is the leading county in the mountain greenery production. To survive, famers must sharply increase their income per acre. And mountain greenery lets them do just that" (Mountain greenery, 1973, p. 11).
Specialists at NCSU besides Whitfield and Douglass were helping with Christmas trees, but were only able to "bootleg" their time (Shelton, 2008). Jim Shelton, who started in January 1960 at the Mountain Horticultural Crops Research Station in Fletcher, NC, with fruit and vegetable production, worked initially with Christmas trees at the Fowler Brothers farm in Jackson County with Ken Perry (Shelton, 2008). Tom Konsler who was the Vegetable Specialist at Fletcher contributed as well. But neither was getting encouragement on campus to work with trees.
According to Avery (2007), TVA had a tour in the early 1970s of research plots, or as someone called it, "home made research." George Hyatt, Director of Extension from 1963-1978 (Events leading up to the Smith-Lever Act and Cooperative Extension, 2005), was in a field of Kermit Johnson's when he asked Avery, "I bet you get a lot of help from the University." Avery replied, "No Sir, I don't get any help. It's considered a small crop now." Avery said the next morning by 8 a.m. every Department Head from NCSU had called him to ask how they could help (Avery, 2007).
A June 24, 1971 memorandum to J. C. Williamson from Fred Whitfield lists the following people as being knowledgeable of the industry: Tommy Beutell, Charles, H. Taylor (of Brevard), Homer Sides, J. K. Perry, A. T. Davison, Fred Colvard, C. E. Gardner, Forrest Harmon (of Winston-Salem), Dale Shepherd, Wilson Barr, John Wagoner, and J. H. McConnell (of Waynesville).
Support was finally there at the University level, though Shelton remembers one administrator during a field tour of a grower who had a few acres of Christmas trees and rhododendrons saying, "I don't think this will amount to much. I don't see why these people don't get a job somewhere" (Shelton, 2008).
Fred Hain was hired in 1974, initially to conduct research solely on Christmas tree pests, which he said only lasted about a year. After that he was involved with southern pine beetle and other forestry pests as well (Hain, 2009).
But a willingness to support Christmas tree research still required funding to back it up. In an April 1975 article in Limbs & Needles, Association President Hal Johnson wrote the following article, "Christmas Tree Bill Ready":
If all goes well, the North Carolina Christmas Tree industry could get a long overdue shot in the arm in the next few weeks. A bill designed to fund a substantial continuing Christmas tree research program at N.C. State University has been introduced in Raleigh by your Association.

The current action is the culmination of several years activity by many association members who have felt that a major, well-funded and continuing research program is an absolute necessity if the industry is to ever realize its full potential in N.C.

While the Association is extremely grateful for research that has been conducted so far at N.C. State, this research has been very limited and by necessity has been funded at a minimal level by dollars not appropriated specifically for Christmas tree research projects, but has no available money to fund them on a continuing basis.

Also, past research conducted so far has been done by researchers who have primary responsibilities elsewhere. As a result, many of us feel that money has to be found to hire full-time people whose primary responsibility is Christmas tree research, and who have adequate budgets to support their activities.

We have been reluctant for several years to introduce a special bill in the North Carolina legislature, because such bills have been discouraged by the greater University. Last year, however, several commodity groups did carry their needs directly to the legislature and were successful in getting special appropriations. The apple, peanut and soybean industry were three groups that got special money this way. We now have assurance that any money appropriated on our behalf will be accepted and used by the University for Christmas tree research…

As of this time, the bill has the favorable approval of the N. C. Legislative Agriculture Committee and has been passed on to the Appropriation Committee for funding. The next pressing need will be for the association members to contact their legislators and make their needs known…

Basically, the bill we are proposing calls for $85,000 per year to be appropriated to the N. C. Agricultural Experiment Station to fund Christmas tree research. The money will provide for two full-time research positions and several graduate assistants, plus support for their activities…

THIS MAY BE THE MOST SIGNIFICANT SINGLE ACTION EVER TAKEN BY YOUR ASSOCIATION FOR THE BENEFIT OF THE NORTH CAROLINA CHRISTMAS TREE INDUSTRY! (Johnson, 1975, p. 1).
The bill, introduced by Earnest Messor of Canton, eventually passed and allowed the creation of Eric Hinesley's position in the Horticulture Department in 1978 as well as funding for graduate students. In the October 1978 issue of Limbs & Needles following a brief article where Eric Hinesley introduced himself, the Editor's note was, "Eric fills the first full time Research position in Christmas Trees at NCSU. Welcome Eric, if you solve all our problems in 90 days we will help find another job" (Eric Hinesley – Background Information, 1978).
The Association was also trying to help support research by funding projects. On February 20, 1976, John Wagoner sent a letter to Dr. Ken Keller, Director of Research, NCSU with a $500 check enclosed "to assist in Christmas tree Research Projects. We are sure Mike Cohen, Fred Haines, or some of the others could put it to good use in their work. We are proud of the wonderful work that has already been done for us and are eagerly looking forward to the future."
In later years, money was earmarked for specific projects and to different agencies. For instance, in August 1979 the Association funded a "Cooperative Agreement to develop alternate chemicals for controlling the Balsam Wooly Aphid" with the US Forest Service  through the Southeastern Forest Experiment Station in Asheville (Scheer, R. L. 1979). The materials to be tested included Dursban (chlorpyrifos), Ambush (permethrin), Pounce (permethrin) and potassium oleate as compared to Lindane.
In 1979 a list of Christmas tree work being conducted at NCSU was published in Limbs & Needles. Compiled by E. B. Cowling, D. G. Harwood, and George Kriz, the document was to "provide information concerning the Christmas tree programs and time allocations of the project leaders and extension specialists. The following were listed:
L. E. Hinesley (100% research): Research will cover important areas of Christmas tree production.

Dan Struve, graduate student: The affects of pre and post environment on the rooting response of eastern white pine needle fasicles.

D. M. Weatherspoon (3% research, 3% extension): Research on herbicides and weed control including seed beds.
R. E. Bir (5% extension): Limited work on Christmas trees but involved with demonstrations with county agents.
W. T. Huxster (60% extension): Concerned with overall educational program materials, including demonstrations and the stimulation of research for 4 major species of Christmas trees, i.e. Fraser fir, White Pine, Virginia Pine and Easter red Cedar.
J. R. McGraw (25% extension): Educational program to train and support county agents in Christmas tree protection, i.e. insects, disease, air pollution, storm and fire.
W. M. Stanton (20% extension): Trains and support county agents primarily in eastern and piedmont counties.
F. P. Hain (60% research): Looking primarily in spider mites and introduced pine sawfly

John Boyne, graduate student: Population dynamics and biological control of spruce spider mite.

B. J. Zobel (no time allocated): Most work is through the tree improvement cooperative

Joseph Weber, graduate student: Geographic variation in Fraser fir.
Larry Miller, graduate student: Flowering and crossing in Fraser fir.

C. B. Davey (10% research): Research aimed at more efficient production of Christmas tree transplants (primarily Fraser fir).

Patrick Minogue, graduate student: Factors affecting growth and dormancy of Fraser fir.

D. M. Benson (50% research): Evaluating the susceptibility of Fraser fir to Phytophthora.

David Shew, graduate student: The biology and epidemiology of Fraser fir root rot caused by Phytophthora cinnamomi.

L. F. Grand (10% research): Evaluating the mycorrhizae of Fraser fir and the effects on Phytophthora.

Stephen G. Gibson, graduate student: Ectomycorrhizae of Fraser fir the their relationship to Phytophthora cinnamomi root rot.

R. K. Jones (10% research, 10% extension): Identify and diagnose Christmas tree problems.
J. E. Shelton (15% research, 10% extension): Establish the basic fertility requirement s of Fraser fir on selected soil types (Cowling et. al, 1979).
Extension Publications in the 1970s
Several publications on Fraser fir recommendations came out in the 1970s.
E. G. Kuhlman and Carol Wells with the US Forest Service published a paper in the American Christmas Tree Journal in May 1971 on Phytophthora root rot in Fraser fir. They evaluated trees in Roaring Gap (probably the Motsingers) (Kuhlman & Wells, 1971).
In 1973, a more detailed budget called, "Economics of Growing Fraser Fir Christmas Trees" was written by James Allgood, Extension Economist, Fred Whitfield and John Blair, Agriculture Extension Agent. The first year establishment and maintenance expenses for an acre of Fraser fir were estimated at $418.08. Total expenses were estimated at $1,694.27 and estimated gross revenue were $6, 078. The annual net revenue per acre was $333.33 over a 9 year period (Allgood et. al., 1973).
Ross Douglass produced three factsheets in 1976, one on the suitability of mountain soils for Fraser fir and white pine, one on planning Christmas tree plantations, and the other called fertilizing Christmas trees.
Fred Whitfield in 1977, even though he had retired, came out with a revised version of "Growing Christmas Trees in North Carolina" which was reprinted with a color painting of a Christmas tree farm in 1979. The painting was done by Krista Brickey. There were 2,500 copies made of this AG publication. The following is from the introduction to the publication:
This publication provides basic information that may help you increase income from growing Christmas trees. It attempts to cover most problems that you may encounter in such a venture… In brief, the profitable production of Christmas trees requires intensive care with precise timing from planting to harvest. It is not a get-rich-quick scheme, but rather a long-term (5-10 years) business venture requiring a multitude of business skills… At present there are no foreseeable limits on the number of quality trees North Carolina growers may sell. While ample quantities of low-quality trees are always available, there have never been enough quality trees to supply the demand. North Carolina growers live within 500 miles of approximately half the nation's population, so fresh trees can be delivered overnight to compete in a regional market (Whitfield, 1977, Introduction).
Fraser fir is the first Christmas tree species described. Also described are balsam fir, Douglas-fir, white pine, Virginia pine, red cedar, spruce species and white fir. All of these species are recommended in the mountains. Shearing practices are described separately for red cedar, white pine and the spruces and firs. Included in the shearing is a the following caution, "WORKERS SHOULD BE WELL TRAINED AND CAUTIONED AGAINST INDULGING IN HORSEPLAY" (Whitfield, 1977, p. 11)
In 1978, Huxster presented a paper on white pine Christmas trees at a symposium on management of pines of the interior south in Knoxville. The following information on white pine Christmas trees was given:
Despite its tendency to wilt, limberness of limbs, poor consumer eye appeal when wet (needles cling together) the tree has gained in popularity with consumers throughout eastern and southern states. The species commands 30-40 percent of Christmas tree markets in some southern markets. A recent national survey estimates approximately 3 percent of the 30 million national Christmas tree market are white pine. In 1978 North Carolina growers planted in excess of 2 million white pines for Christmas trees. Admittedly a percentage of these will be managed as nursery ornamentals but over 50% are destined for the cut tree market (Huxster, 1978, p. 1).
There was interest in other species of conifer for Christmas trees as well during this time. Virginia pine was experimented with initially at the Georgia Experiment Station in 1963. In 1976, an article on the market acceptance of Virginia pine was written for Limbs & Needles (Davis, 1976). A February 1977 article in Limbs & Needles written by R. E. Schoenike, forestry professor at Clemson, described using Leyland cypress as a Christmas tree and methods of rooting cuttings.
Scouting for pests was also important. Fred Hain was developing what he called the 4-S scouting system for spider mites to determine if mites needed to be controlled or not.
Growth of the Association
In April 1975, Dale Shepherd, then President of the Association wrote in Limbs & Needles, "As good as our organization is now, just think what it could be with a 200 membership instead of our present 100" (Shepherd, 1975, p.2) Association membership continueed to grow through the 1970s and it would never be as low as 100 members again.
According to a survey conducted by Bruce Hanson of the Forest Products Marketing Laboratory, during the period of 1967-1971, the southern states produced 88% of the nation's harvest of Fraser firs and 28% of the white pine (National Christmas tree production survey, 1974).
In 1972, prior to the National Christmas tree meeting, Christmas tree production was still low. According to Whitfield, there were 400,000 Christmas trees cut that year with an estimated retail value of $3,600,000 grown by an estimated 600 "small private landowners" (Whitfield, 1973, p. 4). He goes on to write:
Planted acres have increased from 1,000 to 8,000 acres in the last ten years. Fraser fir and Eastern white pine are the primary species planted. Eventually, it is anticipated that growers will be planting 4 million trees a year, involving some 20 thousand acres of agricultural land (Whitfield, 1973, p. 4).
Growers were always concerned about where their trees would be used. In 1972, a telephone survey was conducted by Richard Perrin and Larry Deaton of the NC State Economics Department of Christmas tree use in 465 Raleigh households (Christmas tree choices in 1972, 1973). They found that almost 50% of households used a real tree, 32 % had an artificial tree and 23% had no tree at all. The average price paid for natural trees was $7.50 "indicating that a substantial proportion of these trees were not high-quality North Carolina-grown trees" (Christmas tree choices in 1972, 1973, p. 6).
The industry continued to grow in the late 1970s, much of which was documented by Huxster in an internal memo written in April 1979.
In the late 1960s and early 1970s, Fraser fir planting production remained relatively stable at the ½ million level involved some 600 growers. White pine although not encouraged was planted in gradually increasing numbers throughout the time period. The State's production was centered in Alleghany, Ashe, Avery, Jackson, and Watauga Counties. By 1977 the state was cutting approximately 760,000 trees, but had a proven grower demand for Fraser fir transplants of over 3 million.

Thus, in the next 7-10 years North Carolina will have approximately 5 million trees for sale in a national market that for the previous 8 years has consumed 30-32 million trees.

To effectively communicate the present limited technology and the appropriate "art" necessary to grow quality trees, an expanded result, method, and all practice demonstration program must be developed in the 25 mountains counties that can grow Fraser fir and in at least 40 other counties.

During this past winter 560 people attended three one-day multi-county meetings held in the mountain counties of Jackson, Avery, and Ashe. Six years earlier, 25 to 40 growers would attend the one statewide winter meeting (Huxster, 1979, p. 2-3).
Another source listed the harvest of North Carolina Christmas trees in 1977 as 900,000 valued at approximately $10 million (A seasonal state agribusiness looks for ways to keep growing, 1977). Of this, Fraser fir accounted for 50-60% of sales. It was estimated that 70% of Christmas trees purchased in North Carolina were from other states. There were approximately 800 Christmas tree growers in the state. "About 5,000 acres of North Carolina land is planted in Christmas tree plantations – about 6.2 acres per grower. There are only a few really large-scale plantations in the 300 to 500-acre range" (A seasonal state agribusiness looks for ways to keep growing, 1977). It was estimated that it cost the average grower $4,000 per year to produce an acre of Fraser fir.
The three multi-county day meetings that Huxster described were discussed in the February 1978 issue of Limbs & Needles (Huxster, 1978 information on February Christmas tree winter meeting). In Ashe and Avery County, the meeting was split into two groups with one afternoon session for new growers and an alternate one for experienced growers.
And production continued to grow.
By 1979, the state supplied 1.4 million trees, about 4%, to the national market of more than 32 million trees. About 60% of the North Carolina-grown trees were shipped out of state for sale that year…From 1977 to 1979, about five million trees were planted in North Carolina annually.

Paralleling this increase in planted Christmas trees is the rise in numbers of people growing trees. That number doubled between 1974 and 1979. North Carolina boasted more than one thousand growers by 1979 (Stevens, 1987, p. 65-66).
Grower numbers at meetings were increasing. According to Charles Pittman and Alan McMurray, County Extension Agent in Mitchell County from 1969 to 1973, continuing depressed agricultural prices coupled with the past successes of other Christmas tree growers helped draw people into the business (Pittman, 2009, McMurray, 2009). People who had previously planted Christmas trees were planting more. For instance, Pittman planted his last crop of cabbage in 1970 because price of cabbage did not even pay for the cost of crating it. McMurray saw many of his growers pushing apple trees over to plant Christmas trees.
People were also learning how much money could be made with Christmas trees. Richard Woodie, Alleghany Christmas tree grower, "remembers the day a neighbor who had started raising Balsam fir – not Fraser – came into a local country store and casually announced he had sold $52,000 worth of Christmas trees. 'The smiles and snickers disappeared pretty fast,' Richard recalls" (Grower profile: Richard Woodie, 1990, p. 6). Woodie began growing white pines for Christmas trees in 1973.
Gene Brewer took the position of County Extension Agent in Watauga County in 1974, becoming Director in 1977 (Brewer, 2008). He had worked as a County Extension Agent in Macon County since 1963, working with Christmas tree growers in that area, including Aubrey Henderson, the Fowlers, Bob Hess, and Wilford Corbin. He remembers taking Corbin to Avery County one time to meet Kermit Johnson. When Brewer started in Watauga there weren't many Christmas tree growers. Those already producing included Herb Aldridge (not related to Bill Aldridge), Noah Church, Stanford Coffee, Kenneth Dotson, and Ray Clark.
Waightstill Avery was instrumental in getting markets for the growers in Avery County (Avery, 2007). Some of those first trees were sold through Winn-Dixie. Pittman can remember putting 700 Frasers on a truck and making 13 stops at Winn-Dixie stores through South Carolina (Pittman, 2009). He also remembers that not everyone appreciated the superior qualities of Fraser fir. He sold trees in 1971 in Albany, Georgia, and the white pine he had out-sold his Fraser fir. If some of his customers mistook the white pines for the more traditional Scotch pine, he didn't correct them.
One promotional project highlighted in the February 1978 issue of Limbs & Needles described a beautification project in Boone (Brewer, 1978). Seventy 4-5 foot Fraser fir were purchased by businesses to place outside along the street in 75-gallon wooden barrels obtained from Jack Daniels Distillery. These were decorated for the Christmas season. The trees were to be left out the entire year, and would be cared for by the Watauga County Agricultural Extension personnel as a way to promote the industry locally.
One interesting way to market was described in the American Christmas Tree Journal where the Plaza United Methodist Church in Charlotte, decided to purchase some Fraser fir in Avery County to sell as a fund raiser. This "would provide funds for an over-extended church budget and a large building indebtedness" (Overcash & Pearce, 1978, p.32). They took orders from October through Thanksgiving, and delivered the trees to be picked up December 9 & 10. They sold 700 trees and made more than $4,200. They sold blue spruce, white pine, a few Scotch pine, but mostly Fraser fir, the pride of our own North Carolina mountains" (Overcash & Pearce, 1978, p.32). They purchased the trees from Doug Clark.
Growth Requires Seedlings
Fraser fir seedling availability was still an important issue for the Association in the 1970s. According to Stevens, "The major limiting factor for the Fraser fir industry in western North Carolina during the 1970s was the lack of stock ready for field planting" (Stevens, 1987, p. 64). In the July 1977 issue of Limbs & Needles, H. G. Harris with the North Carolina Forest Service wrote an article about a containerized seedling program that was being conducted at a greenhouse complex at the Clayton Forestry Center. Seedlings were started in the greenhouse during October or November and shipped to Crossnore to be set out in lineout beds the following year.
The 1977 NCCTA meetings were apparently key to a new trend in the industry. Growers were shown how to line-out 3-0 seedlings. According to a February 1978 article by Bill Huxster, "Prior to 1977 few growers had tried to grow transplants, fewer still with outstanding success." Huxster goes on to describe the situation:
Historically, NC Christmas tree growers have by and large depended on NC Division of Forest Resources to supply their demand for 3-2 transplant, a plant large enough for field outplanting. Christmas tree educational meeting and public listening sessions held in mountain counties early in 1977 focused on the severity of the shortage (only ½ million available annually, roughly 16 percent of the proven demand of NC growers) and examined alternatives. One practical alternative is for NC growers to buy 3-0 seedlings and grow their own quality 3-2 transplants… A nursery can produce roughly 6 times as many 3-0 seedlings per year as it can 3-2 transplants.

During the 1977 winter educational meetings held in Jackson, Avery and Ashe counties and co-sponsored by the NCCTA, considerable discussion was held on how to grow transplants. Tommy Beutell, an experienced Jackson County grower and nurseryman, Ed Little and Gene Tysinger, personnel from the nursery operation of the NC Division of Forest Resources, provided detailed production practices each used in their operations (Husxter, 1978).
These meetings were very successful. According to Huxster, in 1977 less than 40 growers tried to grow transplants or wildlings (seedlings pulled from Roan Mountain or other natural stands) in lineout beds. But during 1978, approximately 148 growers lined out 1 million 3-0 seedlings grown in Crossnore. By 1979 according to NC Forest service seedlings orders, 345 growers will plant Fraser fir seedlings and 1,100 will plant transplants. (Huxster, 1979). By the 1980s most growers had lineout beds where they grew their own transplants. Those that didn't could purchase transplants from North Carolina growers that did.
Gene Brewer remembers what a great help it was when growers learned to handle 3-0s. "The industry started flourishing from that standpoint," he said (Brewer, 2008).
Still, a seedling shortage was being felt by the industry. One indication was an increase in demand for Roan Mountain wildlings in 1977 and 1978 when 5 contractors lifted 1.5 million seedlings (McGraw, 1979). These issues would continue to be addressed in the next decade.
Seedlings Require Seed
Seedlings require seed, and by the end of the 1970s, it appeared that seed sources were running out. One reason was the rapid spread of balsam woolly adelgid throughout the natural stands and the mortality that resulted. Also, Fraser fir does not produce a reliable seed crop every year. More seed is set following years of drought so when there is sufficient rain, seed set may be reduced. Also, late frosts can destroy cones. On May 25, 1979, a late season snow killed the cones in the natural stands (The Fraser fir…A phoenix of the Southern Appalachians, 1980).
Growers were also more concerned about the adelgid and the effects on the natural stands because EPA was scrutinizing the use of the one material that was proving effective for its control – Lindane.
A portion of the February 18, 1977, "notice of rebuttable presumption against registration and continued registration of pesticide products of pesticide products containing lindane" read as follows:
Lindane is used to control five major pests on Christmas trees. No data are available to allow an accurate determination of the percentage of Christmas trees treated or the amount of lindane used on Christmas trees. Both chemical and non-chemical alternatives are available to control most of the major insect pests. Although precise estimates of the impacts of cancellation could not be developed, no major impacts are expected if lindane is cancelled for use on Christmas trees (Preliminary notice of determination concluding the rebuttable presumption against registration of pesticide products containing Lindane, 1980).
Waightstill Avery wrote a letter dated March 3, 1977 to Dr. Charles Apperson, entomologist with NCSU about the need for lindane as well as additional research on woolly adelgid control and introduced pine sawfly control in white pines. Effects of the adelgid were voiced in a letter from Daylon Rogers to Don McNeil with the National Christmas tree Association in a July 22, 1980, letter.
At the present time Lindane is the only thing registered for Balsam Wooly Aphid. We are doing some experiments with other materials but so far nothing has proved effective.

The Balsam Wooly is not only destroying our natural stands of Fraser Fir but is now found in young plantations in practically every county where Fraser is grown.

This leaves us with the prospect in the near future of NO SEED, no plants, no trees, no business, unless we can protect the Frasers.
A November 5, 1979, letter from Senator Jesse Helms to W. W. Cagle, Jackson County Christmas tree grower, outlined that there were no immediate plans by EPA to ban Lindane. Apparently Helms' influence was important in keeping the material. Christmas tree growers were able to use Lindane for BWA control until its manufacture was stopped some twenty years later.
On October 9, 1979, Bill Huxster and Jim McGraw sent a survey to County Extension Agents in 15 Fraser fir Counties about the Fraser fir seed supply. The memorandum began, "We expect that it comes of no surprise to you that an unlimited, reliable, long-term, high percent-germination, reasonably-priced supply of Fraser fir seed is almost non-existent. Also, we expect it goes without saying, the future existence, growth, and development of the Fraser fir Christmas tree industry is directly dependent on the availability of seed" (Huxster & McGraw, 1979). Results of the survey determined that 1,270 Fraser fir growers sowed 327 pounds of seed in 1979. Growers would require more than 8 million trees in the next 7 years (Huxster, 1980).
The industry turned to the one mountain where balsam woolly adelgid had not greatly impacted the trees – Mount Rogers. In an April 1978 letter, Edward Morgan, program coordinator for the Creekside Corporation, requested from Kirby Brock, District Ranger for Mount Rogers National Recreation Area, a permit to remove 87,100 transplant size trees and 55 bushels of cones. "Our intent in applying for this permit is to encourage the production of Fraser fir seedlings, transplants and Christmas trees by local people who live within the NRA." Creekside proposed assisting to develop a local growers' association or marketing co-operative. One of the justifications given for the permit was that, "Apparently a considerable amount of theft has occurred within this area. Olef Richardson, who assisted me with the survey, remembers the trees as being much thicker. Based on the apparent evidence of illegal tree removal it can be argued that issuing this permit may reduce the theft problem and give forest service personnel an opportunity to control its impact on the area."
In a memorandum written by Jim McGraw on October 5, 1979, entitled, "Development of a Fraser fir seed production area (SPA) in Virginia" it was stated that the results of a adelgid survey indicated that the pest had been present for 14 years but that, "The Mount Rogers trees, however, appear to have some tolerance of this pests." Jim McGraw also reported "that North Carolina growers feel that Fraser fir seedlings from Mount Rogers source are superior to those of North Carolina." This was prompting the desire to have a seed orchard of Mount Rogers sources in the Grayson-Highlands state park. Trees of Mount Rogers origin would be dug up, moved and planted in a 30 X 30 foot grid using approximately 300 trees. The project was a cooperative effort involving the Virginia Agricultural Extension Service, Virginia Division of Forestry, TVA, Mt. Rogers NRA, Grayson Highlands State park, Virginia Christmas Tree Growers' Association, Whitetop Growers Association and Creekside Corporation.
The meeting being reported on in McGraw's memo occurred on October 3 at Mt. Rogers National Recreation Area district Office in Marion, Virginia. It was suggested the Charlie Conner, County Extension Agent in Marion, Virginia, work full time to establish and manage the Seed Production Area. Conner had a BS in Forestry and MS in Pathology.
The following action sub-committees were formed:
Tree Selection Committee: Hal Johnson, Joe Clayton, Harold Hannah (Virginia Division of Forestry), Bob McElwee (Extension Project Leader, Forestry and Wildlife Resources), Junius Beaver (US Forest Service)

Site Selection Committee: John Van Dine (SCS, Marion VA), Joe Clayton, Dick Cassell (Extension Agent, Grayson County), Gerarld McCart (VPA extension specialist, soil fertility)

Operations Committee: Mike Altizer (Extension Agent, farm management), Charles Connor, John Heltzel (Director of reforestation and communications, Virginia Department of Forestry), Olaf Richardson (Christmas tree grower, Grayson County)
The Whitetop Christmas Tree Growers Association had recently been organized which would help maintain and distribute the seed. The seed orchard was established in 1980 and 1981. According to an October 1981 article in Limbs & Needles, the seed orchard was funded by a TVA project in Abingdon. "The Virginia Division of Parks leased a tract of land for the site to the Virginia Division of Forestry which jointly is managing the area with Virginia Extension… All 200 of the nearly five-foot trees transplanted to the seed production area survived. Moved from a tree plantation in the Whitetop area, they were selected because they originally came from Mt. Rogers" (Groups work at establishing Fraser firs, 1981, p. 14). According to Mr. Conner, all of these trees were transplanted without the aid of any machinery as their use was not permitted in the forest. He had to contract for mules to do the work, a far cry from his typical duties as an Extension Agent.