North Carolina Hops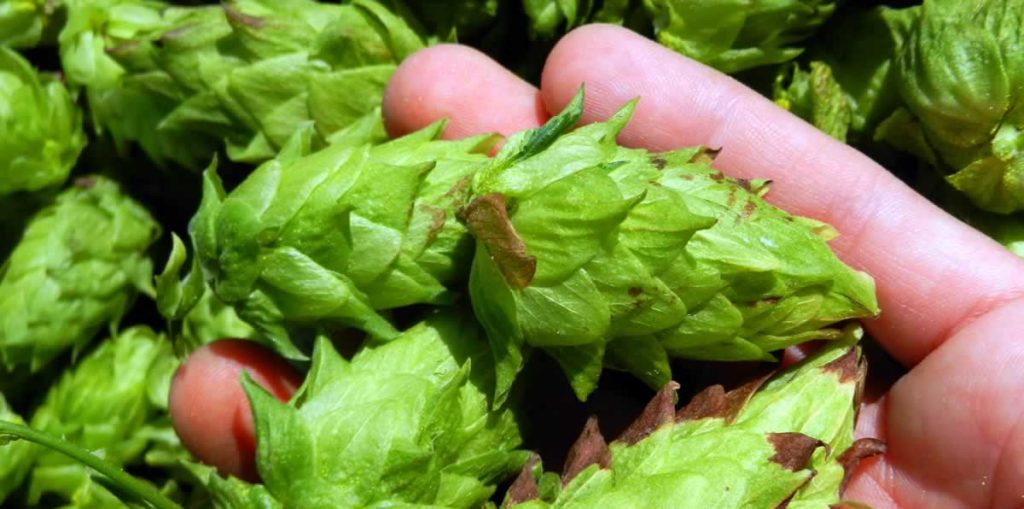 About the North Carolina Hops Project
Spurred on by the demands of a burgeoning craft brewing industry and a strong public interest in locally grown ingredients, farmers are experimenting with hops (Humulus lupulus) as an alternative income source. Over the past ten years, an increasing community of growers across North Carolina have established hop yards and sold their product to local craft breweries and home brewers. The majority of information and figures regarding hops production in the U.S. is developed for the Pacific Northwest hops industry and is not intended for the unique agronomic, economic, and environmental conditions found in North Carolina. The objective of this project is to help identify the best performing hop cultivars, promising geographic areas for hops production, and the key issues related to nutrition, disease, and pest control. In addition, local market conditions and production costs are being addressed.
In 2010, with support from the Golden Leaf Foundation, an experimental hop yard was established at the Lake Wheeler Road Field Laboratory in Raleigh, North Carolina. The experimental hop yard includes 200 total hops plants on 1/4 of an acre. The hop yard contains 10 different U.S. hops varieties planted randomly throughout the experimental site. The varieties were selected based on their range of alpha acid content (bitterness), yield potential, disease and pest resistance, total U.S. production, and demand by local craft breweries. The site is designed to test which hop varieties are best suited for North Carolina's unique growing conditions and which varieties offer the greatest potential for commercial production. After two growing seasons, the varieties planted show significant variation in their vigor, height, yield, maturity times, pest and disease resistance, and overall agronomic health. For example, while 7 of the 20 plants of the variety 'Zeus' were at the top of the 12 foot trellis and producing cones, the tallest 'Northern Brewer' was 6 feet, visually stressed, and without cones. Although variation was expected during the establishment year and additional research is needed, it is clear that variety selection plays a significant role in the economic viability of locally grown hops.
Due to changes in workforce, the hop yard at Lake Wheeler was dismantled after the close of the 2012 growing season. Efforts shifted to the research hop yard in the mountains at the Mountain Horticultural Crops Research and Extension Center in Mills River. Established in 2011, this variety trial initially included most of the same varieties as the original trial at Lake Wheeler. Additionally, collaborations continued with growers across the state. The growers worked with us to help monitor, test, and analyze various agronomic conditions and their significance throughout the growing season. These pioneering growers have provided an opportunity to analyze the agronomic requirements and disease and pest pressures of hop yards managed under different strategies, in different stages of establishment, and in a different region within the state.
The links below are from this initial project funded by the GoldenLeaf Foundation. Since then, more projects have been been started and continue on hops in western North Carolina. You can find updates about these projects in the News section of this webportal. A hops breeding program is also underway and a page is being developed for it, too. Be sure to check out the videos from our hops conferences. Links to those can be found under Presentations at the bottom of this page.
The 2010-2012 NC Hops Project
---
---
Hops, An Up and Coming Crop in North Carolina
There are over 75 craft breweries in North Carolina and more than 80 farmers across the state are now growing hops for this new industry.
Sierra Nevada, New Belgium, and Oskar Blues are all building breweries in western North Carolina!
The NC Hops Project: A cooperative project led by Rob Austin in Soil Science and Jeanine Davis in Horticultural Science.
We now have a research hop yard at the Mountain Horticultural Crops Research Station in Mills River! Follow our activities on our blog.
Field Guide for Integrated Pest Management in Hops (PDF) Produced by Oregon State University, University of Idaho, USDA – Agricultural Research Service, and Washington State University.
Triad Spectrum News: New Industry Spurred from Breweries Opening in NC
More information about hops and other hot crops.
Presentations
Was the information on this page helpful?