The Gardener's Dirt May 2015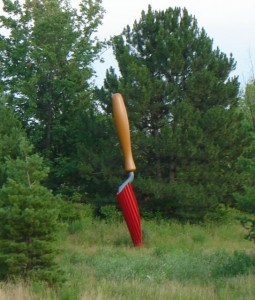 Information you can really dig into.
This newsletter offers timely information for your outdoor living spaces. Addressing the most common questions ranging from container gardening, tree pruning, wildlife management, to fire and control, insect identification and lawn establishment and maintenance.
Click here for a printable version of this newsletter.
Shawn Banks
Extension Agent
Agriculture – Consumer Horticulture
Edited by Brenda Clayton – Extension Master Gardener Volunteer
---
FEATURE ARTICLE
Are Your Tomatoes All Cracked Up?
By: Tiffany Whichard
The questions I get most frequently at the Plant-A-Row for the Hungry garden is generally about tomatoes. That's no surprise as tomatoes are far and away the most popular crop for home gardeners to grow. This past summer, I was asked why the fruit often cracks or splits.
There are two types of cracks that we typically see. The first is called a radial crack. It is usually a series of v-shaped breaks that begin at the stem end of a tomato and radiate downward toward the bottom of the fruit. Circular cracks, by contrast, are a series of concentric rings that generally stay along the shoulders of the fruit. Here is one with circular cracks….
Cracks are, for the most part, cosmetic. The fruit can usually still be harvested and eaten. The trick is that you'll want to harvest the tomato as soon as you notice the cracking, even if it isn't entirely ripe. The deeper the crack, though, the more chance that it will invite in bugs and disease. If you find a tomato that you don't think can be salvaged, feel free to pitch it in the compost bin.
Most of the problems we saw last year were happening because of moisture fluctuations, but there are also other reasons why cracking could happen. Heirloom varieties, for example,  tend to have thinner skins and, as a result, are more fragile and prone to cracking. Shape also plays a factor. Research has shown that plum tomatoes and small, globe-shaped tomatoes will crack more often than cherries or larger beefstakes.
Yet another reason for cracking is inconsistent temperatures. Hot days and cool nights can lead to expansion and contraction of fruit that leads to the skin rupturing. Finally, high nitrogen and low potassium levels have been linked to fruit cracking.
Remember what I said about moisture fluctuations? Well, at the Plant-A-Row plots we do not have a drip irrigation system. As a result, I check on the plots in the morning during the Summer. One of the first things I do when I arrive on the property is gauge how much, if any, water is needed for the raised beds, in-ground beds and individual pots. There was an instance last Summer where I had to take off a few days due to family visiting and when I returned I went to our plastic planters and tried the two knuckle test (submerging the first part of my finger in the soil). As luck would have it, it had been an especially hot, dry period. As I'd feared, the soil was bone dry. I then pushed my hand down to nearly the wrist and it remained dry to even that depth. Yikes!
Now, although the pots and raised beds have a good volume of soil which helps to insulate the roots, this was still a problem. By introducing even well-intentioned water into a very, very dry growing medium, you can unwittingly cause problems. Basically during slow growth periods the epidermis cells of the tomatoes have hardened. When excess water is introduced after that, it encourages rapid growth and much like stretch marks emerging due to weight gain or pregnancy, it may cause the skin to split. Pretty much the bottom line is that tomatoes, like young children, do best with consistency.
For me, ideally, I keep my plants at the house evenly moist (although well short of being wet). A good guideline for growing tomatoes is to check the soil to a depth of 4 inches every other day with your finger. If it's not moist, you'll need to water. Adult plants can be more forgiving. You can allow the top inch or so to dry out, but it should be somewhat moist beyond that. And potted tomatoes should be checked frequently, especially those homed in darker containers. Once plants begin setting fruit, I find that mine are very 'thirsty' too, so you'll want to change your watering frequency accordingly.
If you have any additional questions or want to know how you can get involved in the Plant-A-Row for the Hungry program, please contact us at plantarow@yahoo.com. You might also visit the Plant-A-Row Facebook page at https://www.facebook.com/PlantARowJoCo .
Below is a list of crack-resistant (although not foolproof) tomato varieties.
Arkansas Traveler
Big Beef
Big Boy
Black Cherry
Blondkopfchen
Box Car Willie
Burpee's Big Girl
Burgess Crack Proof
Celebrity
Chianti Rose
Colonial
Daybreak
Debarao
Delicious
Eva Purple Ball
First Lady
Gardener's Delight
Glamour
Gold Nugget
Golden Sweet

Grape Tomato
Jackpot
Japanese Black Trifele
Jet Star
Juliet
Market Champion
Morado
Monte Carlo
Monte Verde
Mountain Fresh
Mountain Gold
Mountain Pride
Mountain Spring
Park's Whopper Improved
Peron Sprayless
Piedmont
Pink Girl
Pritchard
Prize of the Trials
Pruden's Purple Tomato

Red Rose
Red Sun
Rutgers
Santa
Spitfire
Summer Sweet
Sun Gold
Sun Sugar
Sunpride
Super Fantastic
Sweet 100
Sweet Chelsea
Sweet Million
Sweet Olive
Thessoaloniki
Traveler 76
Williamette
Yellow Pear
---
FEATURE PLANT
Trellising Tomatoes
By: Brenda Clayton
Tomatoes are a summer favorite! Everyone grows them! Plant patio tomatoes in big pots on the deck. Line up those Big Boys along a fence. And, of course, plant two dozen or more in the veggie garden. But how do you keep them from sprawling all over the garden? Over the years I think my husband and I have tried a little of everything! You probably have too, so let's talk about our experiences.
Tomato stakes. We used to get tobacco sticks to hammer in beside each tomato. Too short. Then we tried buying tomato stakes at the store. They lasted a couple of years before breaking. And besides that, one stake per plant was never enough.
Tomato cages. The ones you buy are way too short. If you are planting determinate tomatoes which get about 4 feet tall, they will still sprawl out of the top. Indeterminate tomatoes can reach 6 feet and keep right on growing until frost. They just laugh at tomato cages – unless you are willing to invest in fencing wire that can be cut and made into round, tall cages. Nice, but how many can you afford to make and do you have a place to store them.
Fencing wire. Dog fencing comes 6' tall and can be attached to stakes along the garden row. The openings in the fencing are too small to get your hands through, so you would tie the tomatoes to the fencing and harvest from the other side. You might want to look at hog fencing also. In the fall, just roll up the fencing and store for next year.
String. A versatile option long used to trellis tomatoes. The bonnieplants.com website is a great resource with explanations for using string trellises. The one I like is the Classic String Trellis, also called a Cat's Cradle trellis.
PVC pipe. My husband loves PVC. It's light-weight, easy to work with, inexpensive, and can be painted. Here is his favorite tomato trellis for indeterminate tomatoes. Hammer into the ground a sturdy 3-4' stake (rebar, electric fence post) at each end of the garden row with additional stakes along the way depending upon how long the row is. Beside of these study stakes, hammer in an 6' PVC pipe. At 10-12" intervals along the upright PVC, drill holes where you want to attach horizontal pipe. Drill holes in the horizontal PVC and attach to the upright PVC using outdoor cable ties. You now have a PVC trellis to which you can tie your tomatoes individually or weave hemp string in and around the plants and the trellis. The idea is to plan this out so you know what to purchase and to drill your holes before you put up the trellis. Purchase the heavier weight, ¾" PVC. Paint it dark green or black so the white doesn't show. In the fall, snip the cable ties, pull out the horizontal pieces, pull up the rest and store in a bundle. No deterioration, no problems! Ready to go next year!
Choices, choices! The main thing is to find the method that works best for you and your garden. Check out the websites below as well as Pinterest. You will be amazed at the creativity of tomato lovers!
References:
bonnieplants.com/2014/05/string-trellis-for-tomatoes-variations/
tomatoheadquarters.com
https://www.pinterest.com/explore/tomato-trellis/
---
QUICK TIP!
Have you had your TEST?….
By: Annette Byrd
Soil test, that is! Test your soil before planting to find out what your soil needs. Over fertilizing is bad for ponds, lakes, streams and our pocketbooks!
Kits are available at any of the Extension Master Gardener Volunteer Plant Clinics or you may pick up a kit at the Johnston County Agriculture Center on Hwy 210. There is no charge for processing the samples April – November.
---
UPCOMING EVENTS
Extension Master Gardener Volunteer clinics:  At these clinics the Extension Master Gardener Volunteers will be at these locations to answer gardening questions, identify weeds, turf, insects or diseases that you may be having problems with in your yard. Feel free to bring a sample for them to use in identifying the issue. You may also pick up or drop off soil test kits for soil sampling. This is often the first step in diagnosing a plant problem. These clinics are free to the public unless otherwise indicated so stop by and ask us your gardening questions.
May 2 – Clayton Farm and Community Market Will be selling grafted tomatoes at this location. 9 – 1
May 9  – Hudson's Hardware in Clayton 10-2
May 30 – Lowe's of Smithfield 10-2
May 16 –  Extension Master Gardener Volunteer Spring Plant Sale from 8am – 12pm at the Johnston County Soil & Water, 2736 NC Hwy 210, Smithfield, NC 27577. A wide variety of both native and exotic plants suitable for local landscapes will be available at reasonable prices. In addition, new gardening gloves and gently used gardening books, tools, pots and more will be for sale.
May 16 – Rain Barrel Workshop 8am – 11am
Come learn how to make a rain barrel from a pickle barrel and parts from the hardware store. For $40 you can learn how to make a barrel, put one together and take it home to catch water for use in watering plants around the house. For more information visit http://johnston.ces.ncsu.edu/rbworkshop/ . Please pre-register and pay so we can have the correct number of barrels with parts and pieces for all who want to make barrels.
For accommodations for persons with disabilities, contact Bryant Spivey at 919-989-5380 no later than Five business days before the event.
Gardening A-Z Workshop – Wednesdays from 6:30 – 8:00pm Beginning May 6, 2015.
This 11 week summer gardening workshop will take you through all the steps needed to raise vegetables in our Johnston County climate. Each week we will spend about 45 – 60 minutes in the garden planting, harvesting, weeding, scouting, and doing other activities to maintain the garden. We will also spend about 30 minutes in a classroom setting learning how to site, prepare, maintain, harvest, and otherwise care for the home vegetable garden. The workshop costs $20 for the 11 week experience and the food produced is taken to the Clayton Area Ministries food pantry for distribution to the less fortunate. To register for the class please call Clayton Parks and Recreation at 919 553-1550 or register for the class at https://secure.rec1.com/NC/clayton-parks-recreation/ the Gardening A-Z class is under Nature Programs.
---
GOOD OR BAD?
Hornworms
By: Tiffany Whichard
Now that many of us have set warm weather veggies out into our gardens, you may begin to see hornworms on your property. These guys are bad, bad news, let me tell ya'. They can decimate a beautiful plant in no time flat. The hornworms are big, fat, jovial looking creatures which can grow to four inches long. Hornworms, as luck would have it, feed on the Solanum family in the garden (tomato, potatoes, eggplant, etc).
This particular one is a tobacco hornworm. To identify them, you'll look for seven diagonal marks and tiny 'eyes' along the length of their bodies. They also have a bright red hooked tail protruding from their bottom. Tomato hornworms–their kissing cousins–are almost identical, but have eight v-shaped marks on their bodies with a straighter black horn on their tushes.
Hornworms can overwinter as pupae in our soils and large adult moths – sometimes called Hawk or Hummingbird Moths – and deposit single green eggs on the underside of leaves. In our temperate climate, we can have two or three generations of these bothersome creatures per year.
Despite the size, these pests are surprisingly difficult to spot. Because of their coloring, they tend to blend in easily beneath a canopy of leaves. Not only that, but they will feed frequently at dawn or at dusk. During the heat of the day, they tend to stay toward the interior of the plant. The first indication that many gardeners have that hornworms are present is when they see stripped leaves and partially eaten stems or fruit. They also have a tendency to leave tell-tale black droppings on or near the plant in question.
As a preventative, it's always a good idea to till your soil after crop harvest in Fall. This will eliminate a lot of the hornworm problem. Once we enter into the growing season, though, and you begin to see them, you can also pick the hornworms off and destroy them. This always makes me a little squeamish, so I have to leave the task to my husband!
Another effective control for hornworms is a bioinsecticide called BTK. BTK (Bacillus thuringiensis, var. kurstaki) is a type of bacteria commonly sold in home improvement stores. You'll see it under the brand name of Dipel or Thuricide. There is also a brand name of Safer that makes a spray. BTK is a bacteria that caterpillars ingest which becomes a poison and causes them to stop eating. It is partly selective, meaning it will kill many caterpillar pests but isn't harmful, as a whole, to most other creatures. Keep in mind, BTK can also kill 'friendly' butterflies-to-be, so you'll want to use it carefully. Make sure that you apply it only after you see hornworm damage and not as a preventative.
Thankfully, these hornworms have some natural predators. Natural predators include braconid wasps which are parasitic. There are also two types of Tachinid flies that prey on the pupal stage, in addition to stilt bugs. The wasps lay their eggs directly on tomato hornworms. The attached cocoons look like fuzzy grains of rice. When the wasp babies hatch, they make a meal of the hornworm, killing it. As gruesome as it sounds, it's best to leave parasitized hornworms alone or move them to a protected place in your garden. Remember, the more natural predators that you have in your garden, the easier your job will ultimately be!
---
BE CREATIVE/GO NATIVE!
Dwarf Crested Iris
Iris cristata
By: Margy Pearl
Iris cristata is a beautiful native species of dwarf iris that grows easily in the forests from New York, south to Florida, west to Arkansas, and northeast to Ohio. This iris' beauty is quietly lovely, rather than dramatically striking like bearded iris. In a shaded area of a rock garden, perennial border or woodland garden, it adds unique and welcome spring color!
Foliage and Flower:  Ranging from 6" to a foot in height, the plant features blooms with lilac, blue, violet-blue, lavender or white (Alba variety) sepals that have a fluted yellow crest in the white area near the base of the flower. Short leaves on the flower stalks tend to be curved. It blooms in spring, usually April to May or early June.
Site:  Spreading by rhizomes (which are poisonous), it naturalizes rapidly and flowers well in  partial shade. It's best when planted in rich, well-drained soil where it can quickly form dense colonies as a ground cover. It is deer and drought tolerant.
Wildlife Use:  The flower nectar attracts hummingbirds and bees.
Propagation:  Divide in early fall when the leaves have begun to yellow.
Nursery Sources:
Big Bloomers
http://www.bigbloomersflowerfarm.com
Brent and Becky's Bulbs
https://brentandbeckysbulbs.com/
Plant Delights Nursery, Inc.
http://www.plantdelights.com
References and additional information:
http://plants.ces.ncsu.edu/plants/all/iris-cristata/
Gardening with Native Plants of the South (Reprint Edition) (2009) Wasowski, S. with A. Wasowski
---
ONE ENVIRONMENTAL ISSUE
Catface Tomatoes
By: Tiffany Whichard
This is a photo I took last Fall. That zippered, misshapen spot on the tomato is called catfacing. It happens in tomatoes, strawberries and stone fruits. Catfacing, thankfully, is primarily a cosmetic issue. Despite the puckering, scarred appearance, in most instances, you can cut the blemishes away and eat the remainder. Very rarely the damage will be too deep and the fruit must be thrown out. In this particular instance, there was (unrelated) insect damage that is not visible in the photo, and I had to compost the tomato.
What causes catfacing? Well, it can be a couple of things. First, certain cultivars–especially large fruiting varieties of tomatoes (this one was probably going to be nearing a pound in weight) and heirlooms are prone to it. Other varieties, such as 'Homestead' and 'Monte Carlo' are resistant. The most common cause of catfacing, though, is weather.
When temperatures dip below 50 degrees F during flowering and fruit set, the pollination process can be disrupted and it may cause the blossom to stick to the bottom of the developing fruit. When the other parts of the fruit continue to grow, this area with the stuck blossom does not and it creates the scarring you see in the picture. For tomatoes that experience erratic weather, but then it turns consistently warm, you'll often see catfacing happen on early fruit set, but later fruit will be perfectly fine.
There are a few other reasons for catfacing. They include high levels of soil nitrogen, exposure to certain pesticides and inconsistencies in moisture. Lastly, really aggressive pruning can aggravate the problem.
As always, if you have any questions about anything we've covered, feel free to contact us.
---
MAY GARDEN TASKS
LAWN CARE
Don't fertilize cool-season turfgrass (fescue, bluegrass). It has been growing actively all winter, and it will begin to go dormant as summer heats up. Let it slow down naturally, and it'll be better able to withstand the heat and drought of summer.
Call for a Lawn Maintenance Calendar for your type of turf. It tells you how to care for your lawn month by month – such things as fertilization, mowing and watering.

Most of the weeds you see now are winter annuals. The time to control these was last August. In a couple of weeks, the weather will be too hot for these winter annuals, and they will start dying. For this reason, it is a waste of time and money to spray them with herbicide. The best thing to do is mow them before they produce and spread seed around and put it on your calendar to spray for them in August.
Warm-season grasses such as Bermuda, Zoysia or Centipede can be planted now. Mow cool-season grasses, such as fescues, at a height of 3 – 3 1/2 inches to help them survive hot, dry periods.
TREES, SHRUBS, and ORNAMENTALS

Pinch your plants. Use your index finger and thumbnail to break out the lead growth at tips of branches. Pinched plants have shorter, sturdier stems, more lateral branching and more blooms. Pinch back mums, zinnia, salvia, cockscomb (celosia), petunias, marigolds, snapdragons, and garden phlox.
It's time to plant summer beauties such as gladiolus, dahlias, caladiums and cannas and all those colorful bedding plants. Dead or diseased limbs on woody ornamentals should be apparent by now. Prune them out.
Stake floppy plants, such as peonies, dahlias, and Boltonia (Michaelmas daisy), while they're small, so they'll have support when they need it. After plants have grown large, they can be injured by staking.
Cut roses properly. Removing too much wood and foliage when cutting flowers can seriously weaken your rosebushes, especially during the first year. Leave 2-3 well developed leaves (groups of five leaflets, not three) between the cut and the main stem.
Grow great bearded iris by giving them excellent drainage, fertile soil, sunshine, and beds free of competing weeds and grass. Divide frequently (in August) for larger and finer blooms.

Prune spring-flowering shrubs after they bloom. The best time to prune azalea, rhododendron, forsythia, spirea, flowering quince, kerria, pieris, and weigela is just as flowers begin to fade. Don't wait till summer, or you'll cut off next year's flower buds. To keep your shrubs ever young, prune one-third of the oldest canes back to the ground each year.
Prune wisteria frequently throughout the summer, to control vegetative growth and get better blooms next spring.
Keep dogwoods healthy. Spot anthracnose and powdery mildew are two major disease problems that show up on dogwood trees in late spring and summer. To help dogwoods overcome diseases: keep them watered, maintain soil fertility, and clean up fallen leaves to minimize the spread of the disease.
Mulch! Prepare for dry summer weather and control weeds at the same time by using a layer of mulch 2-3″ thick. Read more about the benefits of mulch in this Horticulture Information Leaflet from NC State University.
Banish bermudagrass (Wiregrass) from your planting beds. Keep it pulled to prevent it from overrunning your garden.
Plant seeds of annual vines such as moonflower, scarlet runner beans or passionflower.
Mix plants with the same growing requirements in your container gardens. Do not mix sun-loving and shade-loving plants together in the same container.
VEGETABLES and FRUITS
Plant veggies now that the soil is warm and the danger of frost is past. Sow seeds of beans, squash, cucumbers, and corn. Set out transplants of tomatoes, peppers, eggplant and okra. https://www.ces.ncsu.edu/depts/hort/hil/ag-06.html. Pinching also works well for many vegetable plants, including tomatoes and peppers.

Watch for slugs. These soft, slimy, slender pests have a special taste for tender young crops. Holes in leaves or on the leaf margins and a silvery slime trail in the morning indicate a slug feast the previous night. Slugs hide under boards, stones or debris during the day. Call for a bulletin on control of slugs.
Train and support tomatoes, pole beans, peppers and eggplants. Side dress sweet corn when it is knee-high.
Make consecutive plantings of beans over a few weeks to extend your harvest.
LANDSCAPE IDEAS
Plant vegetables in your flowerbeds! Eggplant, pepper varieties, and cherry tomatoes make colorful additions to the garden. Bush beans and climbing beans have attractive foliage and charming small flowers. Vegetables can also mingle with flowers in pots on a patio or deck.
Welcome back hummingbirds! Females will be in the area first; the males will follow soon. Salvias, honeysuckles, penstemons, and other tube-shaped flowers, especially red ones, will attract hummingbirds to your garden. Fill feeders with a solution of 1 part sugar in 4 parts water. Wash feeders and replace the food at least twice a week.
---
If you have gardening questions you would like to have answered contact the Extension Master Gardener Volunteers by phone at (919) 989-5380 or by e-mail at jcemastergardener@gmail.com.
If you would like to subscribe to this monthly newsletter send an e-mail to shawn_banks@ncsu.edu and ask to be added to the electronic newsletter list.
---
Was the information on this page helpful?